Our Portfolio Companies
by: Women's Innovation Fund Accelerator
On April 30th, 2020 we had our very first Virtual Pitch Day. We're excited to show you all of the participants. For further information, review the Pitch Day.
Keeping IT Support Human during WFH
Code as Craft by Seth Liber
Hi! We're the Etsy Engineering team that supports core IT and AV capabilities for all Etsy employees. Working across geographies has always been part of our company's DNA; our globally distributed teams use collaboration tools like Google apps, Slack, and video conferencing. As we transitioned to a fully distributed model during COVID-19, we faced both unexpected challenges and opportunities to permanently improve our support infrastructure. In this post we will share some of the actions we took to support our staff as they spread out across the globe. Read More….
Gradual Redefining of Matter and Reality: From Mechanics to Quantum
The Great Courses Daily News, By Steven Gimbel, Ph.D., Gettysburg College
Classical mechanics, as per Newtonian physics, and used by Newton and his contemporaries. (Image: Vybi/Shutterstock)
A look inside the gradual development and redefining of physics and reality owing to the new discoveries led by old influences: from Descartes and mechanics to Einstein and quantum mechanics. Read More …..
What is a QOZ?
by: Women's Innovation Fund Accelerator
We are often asked how do Qualified Opportunity Zones work. So we made a short video about how they worked and what makes ours unique. Read More….
---
⭐️ NASA – Best Photo from Last Week
The Crab Nebula: Observations Through Time
Last Updated: May 5, 2020, Editor: Yvette Smith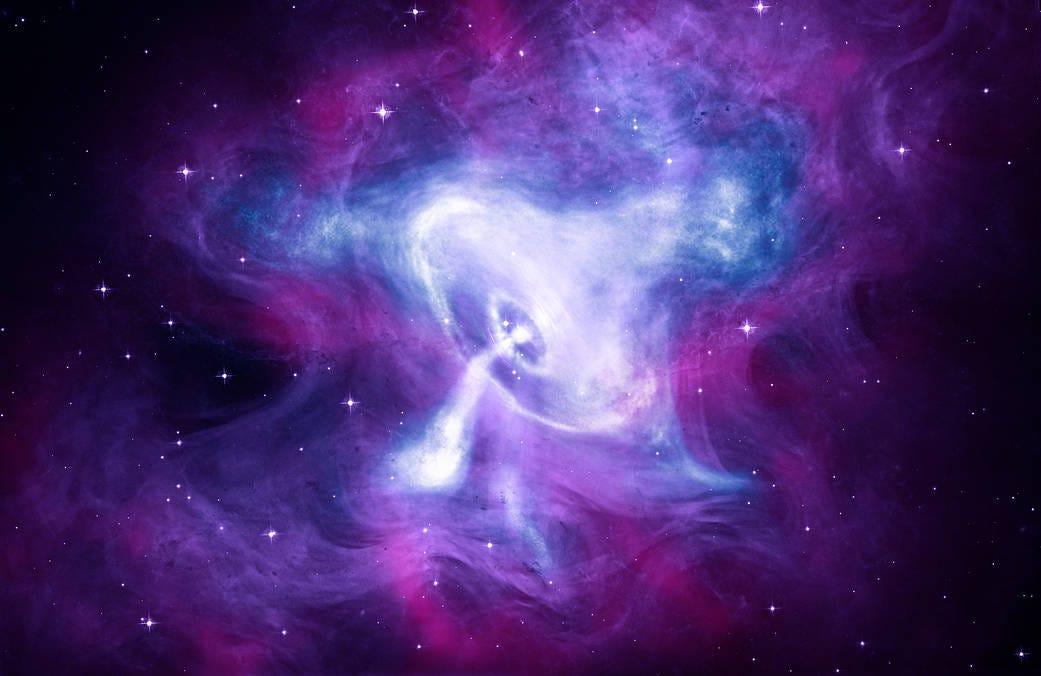 Image Credit: X-ray: NASA/CXC/SAO; Optical: NASA/STScI; Infrared: NASA-JPL-Caltech

This 2018 composite of the Crab Nebula was made with data from the Chandra X-Ray Observatory (blue and white), Hubble Space Telescope (purple), and Spitzer Space Telescope (pink). The star that exploded to create the Crab Nebula was first seen from Earth in 1054 A.D.
Since its launch in 1999, Chandra has frequently observed the nebula and x-ray observations have helped astronomers better understand this spectacular object. The Crab Nebula was one of the first objects that Chandra examined with its sharp X-ray vision, and it has been a frequent target of the telescope ever since. Read More…..
---
🎟 Events – Catch us here virtually
May 16: How blockchain works with AI, IoT and AR – with Barbara Bickham
May 17: Elevate SB
May 20: Innovations City Women of Color Pitch Competition (Judge)
May 26 – 31: Digital Week Online (Speaker)
October 2020: LA Blockchain Week (Speaker)
🎧 From the playlist
---
🧰 Cool tools we use
Readitfor.me | Raise | Notion.so
📥 Connect with us
Twitter | Facebook | LinkedIn | Instagram | Shop | Strategy Session | Accelerator
---
Disclaimer: None of the content in this newsletter is meant to be financial advice. Please do your own due diligence before taking any action related to content within this article.